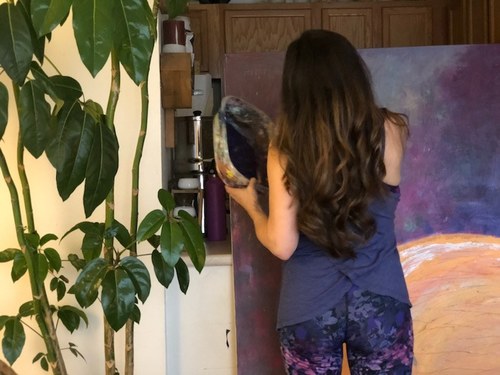 I use acrylic paint, ink, fiber, putty, watercolor, and glass to create large-scale abstract scapes. I layer these materials to build a visual chord. These layers represent the many experiences that combine to compose our individual identities. The cuts that that mark, the beauty that heals, make us unique.
These scapes will, hopefully, draw the viewer in to offer a moment of stillness in an often dissonant world.
I began painting in graduate school at Parsons School of Design as part of an MS Ed, Leadership in the Arts collaboration with Bank Street College of Education in 2011. Prior to that experience, my most vulnerable creative expression had manifested in singing & songwriting. Now I am compelled to paint what my voice does not always have the forum to express. I try to create a single chord in every piece that evokes a feeling of calm that only a balanced harmony can illicit.